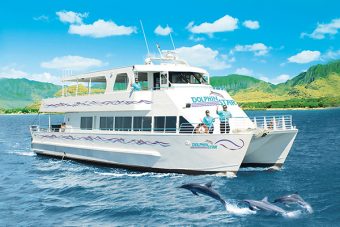 Most people might associate winter with warm nights by the fire, ski trips to the mountain and grey skies. But here in Hawaii, we associate winter with humpback whale and dolphin watching. Even better, the winter months from January to March are the best time to see both of these incredible animals along the scenic coastline of West Oahu onboard our sister company, the 149-passenger Dolphin Star!
A truly must-do on your Oahu trip itinerary, Dolphin Star's Wild Dolphin Watch and Snorkel tour is the perfect three-hour adventure for your whole family.
Departing from Waianae Boat Harbor, Oahu's largest dolphin vessel sails along the teal-colored pristine waters of the Waianae coastline. Keep your eyes peeled for wild dolphins, humpback whales, green sea turtles, flying fishes and other amazing creatures! Plus, our crew of expert naturalists provides a wealth of knowledge to guests curious about Hawaii's marine life and culture.
For this exciting daytime activity, guests can choose from two packages:
Wild Dolphin Watch, BBQ & Snorkel
For the ultimate dolphin watch experience, enjoy a burger buffet lunch, followed by an underwater adventure at one of Oahu's best snorkeling spots to see colorful reef fish, beautiful reefs, and more!
Royal Star Hawaii transporation available from Waikiki, or guests can drive on their own to Waianae Boat Harbor. So, book your dolphin cruise today. For questions, click here to be redirected to Dolphin Star's contact page.
Sign up to receive special offers!