Pearl Harbor Aviation Museum
Oahu is the most visited of all the Hawaiian Islands, and with nearly 4.7 million visitors annually, fondly known as "The Gathering Place". This multifaceted island, offers a wide variety of activities and attractions for visitors to do. If you are interested in the vast and unforgettable history of Oahu, be sure to visit the Pearl Harbor Aviation Museum.
The Pearl Harbor Aviation Museum is a non-profit museum founded in 1999 on Ford Island, spanning two World War II era hangars, one iconic control tower and is home to dozens of historic aircraft. The 7-acre museum grounds and hangars encompass 75 years of aviation history. The first hangar, hangar 37, houses rare artifacts from the December 7, 1941, attack on Pearl Harbor, including, aircraft, first-hand accounts, documentary footage, and even a piece of the Arizona Memorial. In addition to hanger 37, you will find hangar 79, where aviation history continues documenting decades of the Korean War, Vietnam War and the Gulf Wars.
Top of the Tower
Outside of the museum, the attraction continue to educate. On Memorial Day of 2022, the Pearl Harbor Aviation Museum expanded their offerings by opening the Top of the Tower for the first time in almost 10 years following a $7 million renovation. Here, visitors can pay a nominal fee to ascend 168 feet and observe an incredible 360-degree view from the Ford Island Control Tower. The tower grants only 120 tickets per day where guests experience a guided tour of the operations building, firehouse exhibit and an elevator ride to the panoramic deck.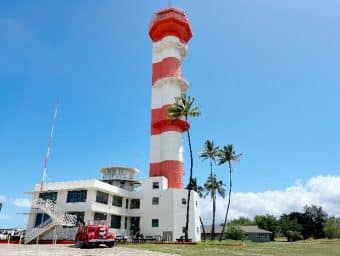 Royal Star Hawaii
Visiting Pearl Harbor can be overwhelming with the amount of things to see and do. At Royal Star Hawaii, we can help you plan your Pearl Harbor visit with various Pearl Harbor packages to choose from. Easily add the Top of the Tower Tour to our USS Missouri, Arizona Memorial & City package for the ultimate experience. Book your Royal Star tour today, rated 5 stars on Trip Advisor.
Sign up to receive special offers!
By submitting this form, you are consenting to receive marketing emails from: Royal Star Hawaii, 2277 Kamehameha Highway, Honolulu, HI, 96819-2309, US, https://www.royalstarhawaii.com. You can revoke your consent to receive emails at any time by using the SafeUnsubscribe® link, found at the bottom of every email. Emails are serviced by Constant Contact.