OAHU'S EXCITING NIGHTLIFE
SUNSET CRUISING
Breathtaking Views & Dining

WHALE WATCHING
Experience Nature's Wonder
Most Popular Activities & Tours on Oahu
Your Next Adventure Awaits
Explore Cruises, Luaus, Tours and Shows
Three Star Sunset
Dinner & Show Cruise
Cruise at sunset with 5-course dinner,
premium drinks and largest cast show!
 Adult from $166
Star Sunset
Dinner & Show Cruise
Beautiful sunset views, Mai Tai, 3-course dinner and largest cast show!
 Adult from $127
Pacific Star Sunset
Buffet & Show Cruise
Fun tropical evening with Mai Tai, buffet dinner and Polynesian show.
 Adult $109
Enjoy a Luau-themed dinner, live Hawaiian music and hula lesson.
 Adult from $87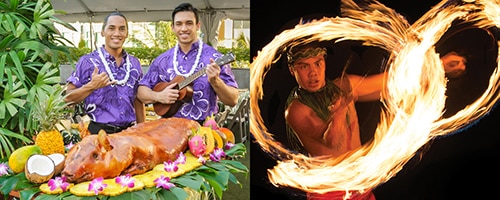 Original
Luau Buffet & Show
Buffet dinner and premier seats for the largest Hawaiian show in Waikiki!
 Adult from $125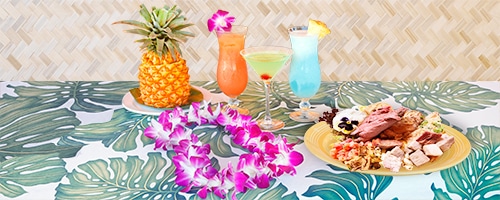 Luau Buffet & Show Package plus orchid lei, two premium beverages and preferred seats.
 Adult from $166
Rock-A-Hula
Rockin' Show Tickets
Get tickets to the largest Hawaiian show in Waikiki's 750-seat theater!
 Adult $76
Live Music &
Cocktail Lounge
Enjoy live music & tasty craft cocktails. Walk in or reserve seats.
$30 ➜  Adult $15 
Early Bird
Whale Watch Cruise
Cruise with the experts. Whale sighting guaranteed, fun for entire family.
 Adult $46
Tour the Arizona Memorial, Punchbowl National Cemetery and downtown.
 Adult from $85
Deluxe Pearl Harbor
Experience
Spend a day at Pearl Harbor visiting the USS Missouri, Arizona Memorial, City & More.
 Adult from $120
Ultimate Pearl Harbor
Experience
Visit the Pearl Harbor Aviation Museum, USS Missouri, Arizona Memorial, City & More.
 Adult $160
Grand Circle Island
& Haleiwa Tour
Experience Oahu in a day, plus explore the surf town of Haleiwa.
 Adult from $130
Private Group Touring, Dining & Activities
Enjoy the Comfort and Exclusivity of Private and Semi-Private Tours, Cruises and Shows
Three Star Sunset Dinner
Private Reception Cruise
Private sunset cruise with 5-course dinner, premium drinks and show.
From $226, minimum 30
Arizona Memorial & City
Private Deluxe Van Tour
4.5-hour Pearl Harbor, Punchbowl National Memorial Cemetery and Honolulu city tour.
Up to 14 guests
USS Missouri, Arizona
Memorial & Honolulu City
7.5-hour Pearl Harbor and Honolulu City tour via private deluxe van.
Up to 14 guests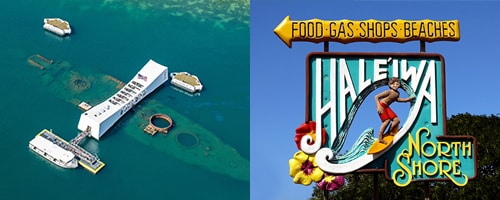 Arizona Memorial & Haleiwa
Mini Circle Island Tour
7.5-hour Pearl Harbor, Dole Plantation, Haleiwa and Honolulu City tour via private deluxe van
Up to 14 guests
Scenic East Oahu
Private Deluxe Van Tour
4-hour private tour to Oahu's iconic beaches, tropical rainforest and downtown Honolulu.
Up to 14 guests (only from $62.13 per person)
Deluxe Pearl Harbor
Experience
Spend a day at Pearl Harbor visiting the USS Missouri, Arizona Memorial, City & More.
 Adult from $120